Suite à l'article du URBANIA toujours, j'ai voulu moi aussi souligner la humble Laurentide.
The not so fresh Laurentide has been recognise by URBANIA as an Icon in Québec.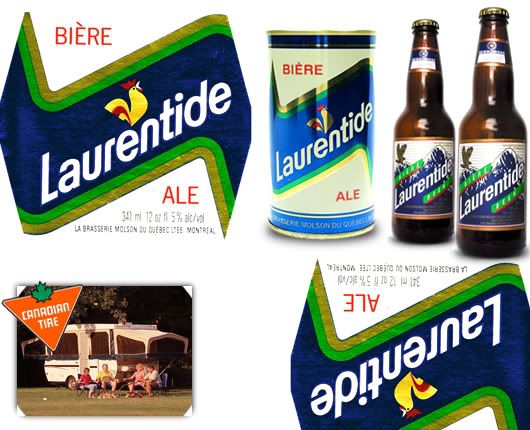 La Molson

Laurentide

n'a plus la popularité d'autrefois. On la buvait surtout en camping, parfois rustique, mais le plus souvent en tente roulotte. (À boire tablette) Elle est aussi associée à un peu tout ce que l'on retrouve dans la revue

Chasse et Pêche

un peu grâce à notre compréhension géographique des choses, le nom le dit… Bref, il m'arrive de faire une association avec le catalogue d'été du

Canadien Tire 1988

, c'est comme ça. Aujourd'hui elle a moins d'avantages concurrentiels, il y a moins de tentes-roulottes, on a découvert d'autres régions pour aller faire du camping, et les catalogues sont disponibles sur le net.
The Molson

Laurentide

lost some of its popularity. This beer used to be refreshing for most of the camping folks, especially for those who had a camping trailer. (Best served warm) It is also associated to fishing and hunting trips, perhaps because we have a good knowledge of our geography. For some reasons, I associate the

Canadian Tire summer catalogue of 1988

to the

Laurentide beer

. Now that the camping trailer are not as popular, and that we have discovered other regions, there is not much left of this famous icon.